THE TECHNOLOGY AND INNOVATION CENTRE (TIZ)
- a house of the TU Darmstadt - is an office-building and since 2003 it offers companies in the start-up phase as well as already established companies the idael conditions for the professional success.
The is situated on the back side of the Darmstadt man train station in the so called Europe quarter. Here tenants have ideal transport connections by train and also a close by motorway access. From a total area of 13.000 square metres small office units starting at 25 square metres which, according to demand, can be enlarged step by step are offered to rent. Parking space on the preises can also be rented. The data connection via the Technical University of Darmstadt and the international space centre ESOC, situated only a few steps away, offers the best conditions for networking within the Rhein-Main-Neckar region. Up to date technology in TIZ is supplement by residing and already established service providers, such as lawyers and marketing agencies.
Bistro Reopening
Good news! The bistro will reopen on wednesday, September 9th! Guests can be pampered outside on the terrace or in the bistro and foyer.
The applicable hygiene and distance regulations are of course observed.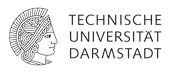 In cooperation with the Technical University of Darmstadt